Milwaukee Residential Concrete Floor Coatings
Are you in the Milwaukee area or in Southeastern Wisconsin?  Are you looking to transform your garage or build a stunning basement? Black Rhino Floors has great residential concrete floor coatings for these applications specific for our Milwaukee and Southeastern Wisconsin climate.
When consulting with our team, our job is to understand your desired outcome, application and budget prior to making recommendations for you. There are some great looking, highly durable types of floors that work in almost any garage or basement even in our harsh climate.
We are ready to talk about how to beautify and protect your residential floors!
Residential Floor Coating Recommendations
When making recommendations, we consider two important words: WHERE the floor is being installed and what type of WEAR will the floor be exposed to.
Where
Is this a Milwaukee garage floor that will be exposed to normal Wisconsin weather and wear such as oils, animals, salt, snow; or is it a showroom for your cars that will not see the previously mentioned but may be exposed to sun and you would like a higher end look? Is it an outdoor patio or pool deck that needs UV stable stain and sealer, a basement floor with a drain that won't see sun, rain or salt but may have food spills. These are a few examples of the types of things that need to be considered when recommending an appropriate floor for your situation.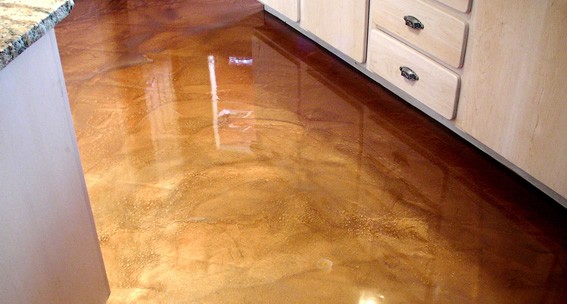 Metallic Epoxy Concrete Floor Coating
Wear
This isn't as critical in residential areas as it is in commercial or industrial but it's still worthy of some consideration in higher traffic areas that will be exposed to high amounts of foot traffic or machinery. In the garage you may get the "hot tire" effect. When you drive your vehicle, friction heats up your tires, and on a hot Milwaukee summer day, the hot asphalt helps warm up those tires too. When you drive into your garage and the tires cool down, it can delaminate the finish you have on the floor from the original concrete surface.  You won't notice the change until you to drive out, but it is a slow, gradual process. The tires will remove small sections of the floor, this will repeat itself until there are significant areas without any coating.  You might find significant bare patches after just a single summer. 
This delaminating problem is typical for home owners to experience when purchasing the "do it yourself" product from a local store. Our commercial products offer significant quality differences than the resins used in our common "Do It Yourself" systems.  Our products are designed to eliminate the adhesion issues, but as importantly, we have the equipment to correctly prepare the surface for proper bonding and adhesion with our industrial equipment which most home owners do not have access to.
Concrete Floor Coating Color Options
Get a better idea of the stock colors we offer and "look" you will be able to achieve. If you do not see a color you like, most likely we will be able to create it with our almost limitless color options and combinations.
Milwaukee Residential Floor Coating Applications:
Contact us for a free consultation today