Milwaukee Industrial Concrete Floor Coatings
The most abrasive resistant floors find themselves in the industrial world of manufacturing and warehousing. Black Rhino floors have been engineered specifically for these high wear, abrasive, and demanding work environments.  We work with Milwaukee and Southeastern Wisconsin businesses to choose the best floors providing you with the lowest total cost of ownership for the life of the floor.
When considering the purposes of these floors we have multiple solutions for you to be able to resist forklift, hand truck traffic, various containers, pallets, metal bins, scrap metal and any number of materials being moved, pulled and pushed across these floors.
While abrasion, chemical resistance and longevity are key components, companies are expecting floor coatings to be flexible in accommodating design customization and safety demarcation requirements. When a company like yours invests in a flooring system, you expect these floors to last while maintaining their brilliance with minimal maintenance investment requirements.
While all floors require maintenance, with Black Rhino Floors you no longer need to wax, strip or burnish flooring with sacrificial top coats. Instead, with our industrial concrete floor coatings you get durable and sharp looking floors that last a long time with minimal maintenance. These floors are really easy to clean and are impervious to almost any liquid you can throw at them. Many of our floors are installed in manufacturing, warehouse, machine shop environments as well as high production facilities.
Be sure to call Black Rhino Floors to learn more about why we are a leading Milwaukee Industrial Concrete Floor finishing company.  You will find we provide the value and service everyone needs in today's marketplace.
Looking to protect your industrial floors!
LEED Certified & Environmentally Friendly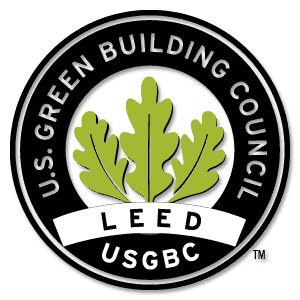 It is an exciting time to be in the concrete polishing business since there have been incredible advancements in materials, allowing for almost an unlimited amount of colors, designs and applications. If you are specifying a mechanically polished floor from Black Rhino for your commercial facility, you are eligible for "LEED" (Leadership in Energy and Environmental Design) points for your environment initiatives. LEED is the most widely used green building rating system in the world. It provides a framework that project teams can apply to create a healthy, highly efficient and cost-saving green building. LEED certification is a globally recognized symbol of sustainability achievement.
LEED Certification is a voluntary program that promotes a positive environmental image to the community. Additionally, when applying these green practices, it can lead to energy and cost savings, better indoor air quality, and more daylight. Studies have revealed those that work in a building like this have increased productivity, less sick leave and less turn-over. These benefits translate directly into greater compensation and more profits to the bottom line. Within the educational environment, students have higher test scores and lower absenteeism. On the retail side, higher sales have been connected to day-lit stores. Along with all of the day to day benefits for the students, employees and customers, LEED Certification also provides tax credits and benefits.
Concrete Floor Coating Color Options
Get a better idea of the stock colors we offer and "look" you will be able to achieve. If you do not see a color you like, most likely we will be able to create it with our almost limitless color options and combinations.
Industrial Floor Coating Advantages
Here's why Black Rhino Floors are a unbeatable solution to solving industrial floor coating needs:
Impact Resistant
Temperature Resistant
Base options for sanitization and
      waterproofing
Superior toughness against chemical, oil
      and solvents
Extremely rugged and durable for heavy
      loads and traffic
Structurally sound
Customizable slip resistance
Color and design flexible
Creativity for growing your brand
      awareness with your corporate colors
      and logo
Industrial Floor Coating Applications
Contact us for a free consultation today