Epoxy flooring for restaurants started as an easy way to keep your concrete floor looking clean.  It was way better than the tile and grout that would degrade over time, especially in your fridge and freezer.  With the new generation of epoxy flooring, our epoxy flooring for restaurants is more durable, easier to clean, slip resistant, and even beautiful.  Let us tell you what we mean.
More Choices for Your Concrete Floors
First off, we are no longer relegated to plain epoxy or epoxy and flakes.  We can now take your epoxy floor and make it look like marble or stone. That means what was once a back-room treatment can now be extended into client areas, where the concrete you used to hide becomes a highlight of your décor.
We can also add stencils or embed flat objects (like baseball cards) to your floor, making your floor truly one-of-a-kind, a unique piece of art that is part of your building.  Add to that other techniques we can use, like cutting and grinding to make a concrete floor look similar to real stone. We can stain the floor as an alternative to epoxy, which also helps with a stone look for your floor.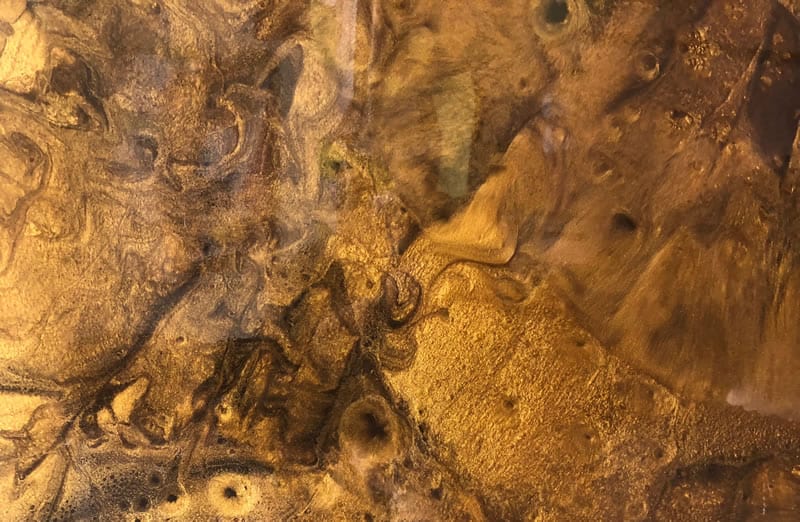 A Durable Restaurant Floor
Yet, what about durability with epoxy flooring for restaurants?  We have a special top coat for epoxy and other style concrete floors that makes the floor more durable, easier to clean, and yet more slip resistant at the same time. 
The topcoat is essentially a liquid glass which will keep your floor looking perfect for years to come. It is so durable it is even used in airplane hangars to keep those epoxy floors from getting damaged by the heavy equipment used on the concrete.  In fact, to get the finish off later, you need diamond tools in order to remove it.
The top coat penetrates deep into the floor, so you won't get peeling later on down the road.  In the end, by adding the final durable topcoat, you save a lot of money in maintenance costs from year to year and the floor should never need to be completely stripped and redone again, you just need to add a thin layer of new topcoat every one or two years (as easy as adding a new coat of wax).

But My Floor is in Bad Shape!
It doesn't matter if you have stains, cracks, or a floor that needs leveling, we can get your floor in tip-top shape (short of a repour).  We have equipment that not only does a great job restoring your floor, but also equipment that gets the job done fast.  Your best option is to have us come in, evaluate your floor, and give you a free quote.
The Benefits of Black Rhino Coatings:
Beautiful (color and design flexibility)
Resists food stains
Resists acid stains
Resists bacterial and odor growth
Quick installations
Seamless
Anti-microbial
Temperatures do not affect the longevity of the floor
Can use on a flat or sloped floor (ramps, steps and drains)
Slip resistant
Reduce your labor and chemicals needed for cleaning
Improves indoor air quality
Meets or exceeds ADA and health regulations