Milwaukee Garage Floor Finishes & Sealers
Durable & Beautiful Garage Floor Coating Solutions in Southeastern Wisconsin
CONTACT US OR GET A QUOTE
Milwaukee Garage Floor Finishes & Sealers
Your Wisconsin garage can easily and economically be transformed to have a showroom finish.  We have garage floor finishes that are able to repel dirt and oil as well as handle the rough conditions most Milwaukee garages go through.  It is not just driving your vehicle over the floor that can cause damage, but dropped tools and toys can easily chip pieces of an inferior floor finish.
You can transform your garage into a beautiful, durable and long lasting space. Just imagine having a garage floor that looks good enough to host a party on a rainy day. Black Rhino Floors specializes in a number of industrial grade garage floor coatings for your garage and residential concrete floors.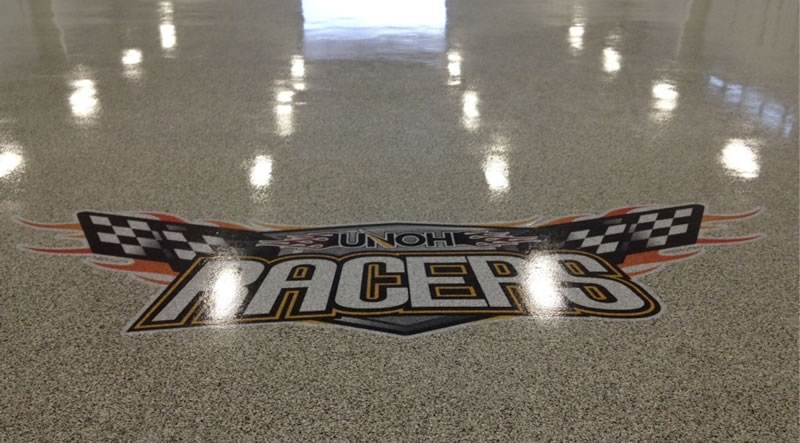 It does not matter what floor type you select, the secret to a great, long lasting floor is the preparation.  We have the equipment to get your floor done fast while creating an optimal surface for maximum adhesion.  We also have the most popular flooring types available, but two of them are by far the most durable and popular for everyday wear and tear, quartz and flake. 
These two floor types are highly durable, provide traction control, and keep dirt and liquids from penetrating the coating. They come in a variety of colors and a limitless amount of color combinations.  When we add a penetrating top-coat, your garage floor can have the same durability found in tough industrial settings.  
Our primary service areas for our Milwaukee garage flooring are Metro Milwaukee and all of Southeastern Wisconsin including communities such as; Hartford, Delafield, Oconomowoc, Mequon, Bayside, River Hills, Grafton, Cedarburg, and Brookfield.  
Want to beautify and protect your garage floors?
What to expect from Black Rhino Floors – Our Process
Step 1 - Qualifying
Our first conversation will be over the phone to make sure our floors are right for you.  
Step 2 - Consultation
Our next meeting will be at your residence when we assess your garage and determine what flooring type is best for you.
Step 3 - Final Color Selection
We may need another meeting to present our custom color boards if necessary based on the flooring type, application and you want for a custom color blend. See popular color options online.
Step 4 - Schedule the Installation
We schedule a time convenient for everybody to install your floor once you approve our quote, choose your color, and submit an initial deposit. 
Step 5 - Day of Installation
Our professionally trained team will arrive on time the day of the installation. Installation time varies based on the condition of your floor and the floor coating and sealer you choose, but generally the process takes 48-72 hours between when we first arrive and when you can park your car in the garage.
The garage should be emptied prior to our team arriving.
Here's what happens on installation day:
Our team will let you know we arrived.
We will prep our equipment and attach all power equipment to power sources.
Prepare our work space to prevent damage to other surfaces.
Step 6 - Surface Clean & Prep
We will remove all surface contaminants.
We will grind your floor with diamond tooling. 
We will repair existing cracks and surface damage. 
We apply any moisture barrier or contaminant treatment that you have chosen. 
Step 7 - Floor Installation
We apply coating to the cove (optional) and garage floor. 
Once the resin is dry, we remove the excess flake and make sure none of the flake is sticking up.
If you ordered a logo, we will apply it at this point.
Lastly we will apply the best, most durable top coat known as polyaspartic. 
The floor will be dry in 1-2 hours to the touch, 4-6 to light foot traffic and fully cured in 24-48 hours.  
Once we're finished you'll absolutely love your floor, we guarantee it!
Considering a flooring project in Southeastern Wisconsin? Allow our great staff to layout the best options for you to choose from, you will be delighted.  Call 262-573-0428 today!
Contact us for a free consultation today